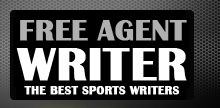 Yankee Addicts
Categories
Featured Sponsors
News published by
October 2, 2011
Donald Jerome Driver is one the greatest Green Bay Packers in franchise history. He leads the franchise with most receiving yards (9,666) and receptions (703) and is still going strong. ...
September 11, 2011
Before I say anything, I just want to make it very clear that James Jones is a great player and athlete. The Packers would not have won the Super Bowl ...
February 11, 2011
Congratulations to Aaron Rodgers and the Green Bay Packers. You've won the Super Bowl, and now all that's left to do it see what's in store for next ...
February 11, 2011
Let me just say first that Ben Roethlisberger is a monster, a true player and maybe even an elite quarterback. It doesn't matter how you get the job done, just as ...
January 10, 2011
Who said this guy couldn't win playoff games? At long last, Aaron Rodgers' critics are going to have to just sit back and absorb the utter humiliation that he has ...
January 8, 2011
Overrated this, overrated that, it just seems like NFL and sports critics alike have found a new favorite target in Aaron Rodgers. Don't these people know that Aaron Rodgers has ...
January 7, 2011
Most fans and experts would probably tell you that Green Bay's match-up in Philadelphia is going to be explosive, but that Green Bay will be lacking one thing on offense. Nobody ...
January 4, 2011
The two teams that faced each other in their first regular season game meet once again in Philadelphia. And we remember the drill: It was the game that kick Michael Vick's ...
January 3, 2011
Aaron Rodgers wasn't spectacular, the mental mistakes were about as bad as Week 3 and Green Bay's offense just failed to ever get into a rhythm. Ugly win or no ...
January 1, 2011
Earlier this season, Green Bay faced Chicago, and were heavily held as the favorites to win the game. Green Bay outperformed Chicago except for one thing. Green Bay committed over ...