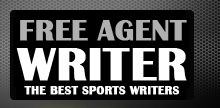 Yankee Addicts
Categories
Featured Sponsors
News published by
December 27, 2010
Hosting a game against one of the most determined teams in the NFL, which also boasts one of the best defenses in the entire, didn't scare diddly squat ...
November 29, 2010
Before I begin, let me just say that I can't wait for a rematch. I don't care if it has to be in the Dome again, I just want Atlanta ...
November 23, 2010
"Green Bay Packers make stunning season turn-around." Aaron Rodgers and the Green Bay Packers looked like they were headed for another long season back in October when they went 3-3, ...
November 10, 2010
The Green Bay Packers have finally activated their sixth round draft pick, running back James Starks from the People Unable to Perform list. It took awhile for James Starks to ...
October 16, 2010
Penalties, Turnovers, Inconsistency and injuries. If just one of these four were not a problem, the Packers could easily be sitting on a 5-0 record.The first three are ...
September 19, 2010
Clay Matthews and the Packers Sackers Is it just me, or does it look like Clay Matthews is the new leading candidate to win defensive player of the year? Clay leads the ...
September 13, 2010
Bleacher Report discourages writing up any type of game reviews. But reviews are different from simple "observations".Congratulations to the Packers for winning their first victory in Philadelphia in more than ...
September 3, 2010
Left and right, up and down, wherever you look, it's Super Bowl hype that seems to be swirling around the Packers. It is a question that seems to excite some, and ...
August 18, 2010
Deep down, I believe we still have some love for the guy. Who's more exciting to watch than him? He's pushing 41 and still pulling numbers as if he were 26. ...
August 10, 2010
  Why do people to continue to worry about Green Bay's offensive line? It's understandable considering Aaron Rodgers was on pace to break the NFL sack record in the first nine games ...