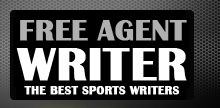 Yankee Addicts
Categories
Featured Sponsors
News published by
November 17, 2012
Against the Tennessee Titans, it became increasingly obvious. While the Miami Dolphins struggled to even achieve first downs, third down was a glaring issue for the Miami squad. Ryan Tannehill ...
November 14, 2012
The Miami Dolphins (4-5) had a rough awakening at the hands of the Tennessee Titans (4-6) in a 37-3 blowout last weekend.But this Tuesday, it does not get much easier ...
November 3, 2012
They are no longer a secret in the NFL. The Miami Dolphins (4-3) are on a roll.Currently on a nice three-game winning streak, the Dolphins will travel to Lucas Oil ...
October 10, 2012
It is no secret around the NFL; the Miami Dolphins are incredibly deep in the running back position.Reggie Bush has the potential to push a rushing title this season and ...
September 19, 2012
Ryan Tannehill's second NFL start led the Miami Dolphins to their first victory of the season in a 35-13 beatdown of the Oakland Raiders. While the rookie from Texas A&M ...
August 26, 2012
Indianapolis Colts owner Jim Irsay has been quite the prolific tweeter. His Twitter account (@JimIrsay) has been saying some interesting things as of late to his loyal followers and Colts ...