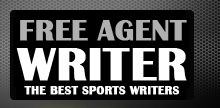 Yankee Addicts
Categories
Featured Sponsors
News published by
January 16, 2011
College Bowl season is officially in the rearview mirror and the NFL Playoffs are winding down to a hopefully exciting climax. Yes, it's the middle of January and we only we ...
January 14, 2011
Character concern—the two most dreaded words an NFL prospect can hear.Forget 40 times, throw the height and weights out the window: When it comes down to evaluating NFL prospects, character ...
November 16, 2010
It's not easy to find interesting storylines from 20-point routs like yesterday's 49-29 Denver Broncos' victory over the Kansas City Chiefs. But luckily for us, there are men like Chiefs ...
September 6, 2010
Darrelle Revis! WOOOO!If you've seen the latest Dick's Sporting Goods commercial airing promptly every five seconds on ESPN, then you have a good sense of how loud Jets' cornerback Darrelle ...
August 30, 2010
The NFL has used the ranks of college football as an illegitimate farm system for decades now.The NFL's annual selection process of college players, known as the NFL Draft, dates ...
August 27, 2010
I never wanted to do this. I never wanted to be one of those people that made a preseason mock NFL draft. In my mind, that's crossing that last boundary ...
August 25, 2010
The 2010 NFL season is knocking at the door, and the hype and excitement is an all-time high right now. Players around the league are preparing to put in months ...
August 23, 2010
And the 2010 Offensive Rookie of the Year goes to.........It's a topic many analysts and fans are fiercely debating right now. It's always one of those preseason questions that people ...
August 16, 2010
It was announced today that Houston Texans rookie running back Ben Tate will undergo ankle surgery that will effectively end his season before it even has a chance to begin. ...
August 16, 2010
This is Part Two of my 2011 NFL Draft College Football Scouting Guide.These are the positional rankings of 500 senior and underclassmen football players.Part One is The Flynn Forty, an ...