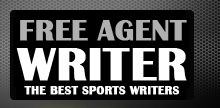 Yankee Addicts
Categories
Featured Sponsors
News published by
June 7, 2010
"They are yellow jackets numbers, yet here you are." Yes, Terrell Owns, here you are. As Rich Eisen said so bluntly on last week's NFL Total Access, here you are, still sitting ...
May 31, 2010
"Ugh, I can't believe we passed on a receiver." That's the sentiment many NFL Fans express every year when their favorite team passes on the superstar receiver of that year's draft. In ...
May 23, 2010
It was an idea floated all the way back in 2001 after the September 11th terrorist attacks, and now almost ten years and one brand new state of the art ...
May 6, 2010
"He's just a winner." We've all heard it before. In the months leading up this year's NFL draft, it was the phrase we had drilled into our heads ad nauseum as commentators ...
April 27, 2010
It's a widely known fact that receiver Dez Bryant met with Dolphins officials in the weeks leading up to the draft. The meeting occurred before Miami inked Brandon Marshall ...
April 26, 2010
An unheralded third-round receiver with great explosiveness and hands. That description might sound a little too familiar to Steelers fans. That's because it not only describes 2010 selection, ...
April 25, 2010
Out of the 255 players taken in this year's NFL Draft, 191 of them came by way of a BCS conference. Here's a look at how each conference fared when ...
April 25, 2010
Total Selections: 31 First Rounders: 4 Second Rounders: 2 Third Rounders: 3 Fourth Rounders: 5 Fifth Rounders: 8 Sixth Rounders: 4 Seventh Rounders: 5 QB: 0 RB: 2 ...
April 25, 2010
Total Selections: 18 First Rounders: 3 Second Rounders: 1 Third Rounders: 1 Fourth Rounders: 3 Fifth Rounders: 1 Sixth Rounders: 3 Seventh Rounders: 6 QB: 1 ...
April 25, 2010
Total Selections: 34 First Rounders: 3 Second Rounders: 5 Third Rounders: 5 Fourth Rounders: 6 Fifth Rounders: 5 Sixth Rounders: 0 Seventh Rounders: 10 QB: 1 ...