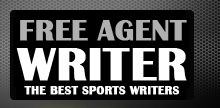 Yankee Addicts
Categories
Featured Sponsors
News published by
June 17, 2016
The Atlanta Falcons are less than a year away from opening their new state-of-the-art stadium, but it's going to cost a little more money than they thought. Per Tim Tucker of ...
June 17, 2016
The Kansas City Chiefs have signed two young players they hope can provide some competition during training camp. The team agreed to terms with former New Orleans Saints cornerback Akeem Davis, ...
June 16, 2016
After a season filled with complications in his left leg, Maurkice Pouncey is glad to be back on the field. After undergoing surgery to repair his broken left fibula last August, the ...
June 13, 2016
The Houston Texans claimed cornerback Terrance Mitchell off waivers on Monday, according to John McClain of the Houston Chronicle. The Dallas Cowboys released the former seventh-round pick on Friday.     McClain noted ...
June 12, 2016
Chandler Jones can't wait to play against his former team in Week 1. When the Arizona Cardinals' new pass-rusher found out he was playing the New England Patriots this season, he ...
June 12, 2016
Von Miller ended up being in attendance when the Denver Broncos receive their Super Bowl rings on Sunday. Jeff Legwold of ESPN.com had reported the MVP of Super Bowl 50 would ...
June 12, 2016
Detroit Lions tight end Eric Ebron likes having a coach who won't be soft on his players.  The former 10th overall pick is entering his third NFL season, and the 23-year-old ...
June 5, 2016
New York Jets wide receiver Brandon Marshall doesn't want to be a salary-cap burden when his current contract expires.   The team owes Marshall $17 million over the next two years. ...
June 4, 2016
James Laurinaitis has quickly realized the New Orleans Saints' culture is different than what he was used to. The new Saints linebacker, who spent the first seven years of his career ...
June 2, 2016
New England Patriots special teams captain Matthew Slater is worried the NFL may do away with kickoff returns completely.   The five-time Pro Bowler said Thursday it may become extinct because of the ...