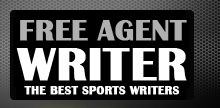 Yankee Addicts
Categories
Featured Sponsors
News published by
June 2, 2016
Last season's AFC Wild Card Game would lead some to believe the Cincinnati Bengals are the Pittsburgh Steelers' biggest rivals in the AFC North.   That's not the case, according to ...
June 1, 2016
It seems not everyone in the Los Angeles Rams organization is pleased the franchise drafted Jared Goff. According to Jim Trotter of ESPN.com, Rams quarterback Nick Foles has skipped organized team activities and not ...
May 30, 2016
Rookie running back Ezekiel Elliott is starting to realize how much of a difference there is between the NFL and the college level. The Dallas Cowboys' No. 4 pick from this ...
May 20, 2016
Mark Davis needs majority support from the other NFL owners if he wants to move the Oakland Raiders to Las Vegas, and he has a powerful voice backing him in ...
May 17, 2016
The Indianapolis Colts missed the playoffs last year due in large part to the absence of quarterback Andrew Luck. It was the first time Indianapolis missed the postseason since drafting Luck ...
May 13, 2016
Tennessee Volunteers head football coach Butch Jones thinks former quarterback Peyton Manning would be successful as a coach, but he believes success wouldn't come early. "We talk all the time, and I ...
May 10, 2016
San Diego Chargers running back Melvin Gordon hopes to rebound from his tough rookie year, but it will take some time before he's at full strength after undergoing knee surgery. Continue ...
May 9, 2016
The New England Patriots have traded linebacker Jon Bostic to the Detroit Lions for an undisclosed draft pick, the Lions announced Monday. ESPN's Adam Caplan revealed the pick was a conditional ...
May 9, 2016
The next item on the agenda for the Arizona Cardinals will be to try to lock up safety Tyrann Mathieu to a long-term contract. Continue for updates. Discussions to Continue on Mathieu's New Deal Sunday, ...
May 8, 2016
New Kansas City Chiefs running back Tyreek Hill is trying to move on. Hill, the Chiefs' fifth-round pick from this year's NFL draft out of Oklahoma State, has been on probation ...