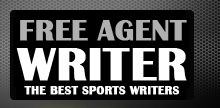 Yankee Addicts
Categories
Featured Sponsors
News published by
October 25, 2010
How do the Minnesota Vikings lose a game when running back Adrian Peterson carries the ball 28 times for 131 yards? Lousy coaching and poor officiating don't help, but in ...
October 22, 2010
When the Minnesota Vikings re-acquired receiver Randy Moss a couple weeks ago, they knew they were once again welcoming one of the most physically gifted athletes in the National Football ...
October 13, 2010
Minnesota Vikings quarterback Brett Favre is statistically among the worst in the National Football League this season. His QB rating is a measly 67—only three QBs are worse, and two ...
September 23, 2010
The Minnesota Vikings were in hot pursuit of suspended San Diego Chargers receiver Vincent Jackson today, but with trade demands too lofty for the Vikings' liking, they simply added recently ...
September 21, 2010
Minnesota Vikings receiver/kick returner Percy Harvin has a pain in his butt. But according to the results of an MRI today, it's nothing more than a hip strain. Nevertheless, it will ...
August 31, 2010
Just as Minnesota Vikings rookie cornerback Chris Cook was making impressive progress in the preseason pursuit of a starting spot opposite veteran DB Antoine Winfield, a torn meniscus will sideline ...
August 25, 2010
The Minnesota Vikings were distraught to learn today that their top receiver, All-Pro wideout Sidney Rice, had hip surgery that will keep him out for as many as eight weeks. After ...
August 25, 2010
When a Yahoo! Sports article surfaced last week claiming that there was an ongoing rift between Minnesota Vikings quarterback Brett Favre and head coach Brad Childress, it cited unnamed sources ...
August 24, 2010
When Minnesota Vikings linebacker E.J. Henderson broke his thigh bone in a gruesome collision against the Arizona Cardinals last season, you had to wonder if his career was over. In ...
August 18, 2010
As I said back on March 8, there were plenty of good reasons for Brett Favre to return to the Minnesota Vikings in 2010. And after a series of events ...