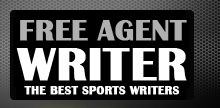 Yankee Addicts
Categories
Featured Sponsors
News published by
February 4, 2011
Once his hometown Chicago Bears were eliminated from playoff contention in the NFC Championship game almost two weeks ago, President Barack Obama announced he wasn't going to be attending the ...
February 2, 2011
As if Green Bay Packers quarterback Aaron Rodgers hasn't heard enough about Brett Favre during his six-year National Football League career, he has to deal with the living legend again ...
January 30, 2011
Earlier this week, I previewed the 2011 Senior Bowl quarterbacks for the Minnesota Vikings. One player I did not include was Florida State QB Christian Ponder. But he outplayed the ...
January 22, 2011
I hate to begin prefacing every article with "if there's football in 2011," but that seems to be a viable option as each day brings us one step closer to ...
January 21, 2011
The Minnesota Vikings today hired former Tennessee Titans running backs coach Craig Johnson as their new quarterbacks coach. And because Johnson was once the QB coach in Tennessee, speculation is ...
January 21, 2011
Pittsburgh Steelers quarterback Ben Roethlisberger is in familiar territory. For the fourth time in his almost legendary, sometimes troubled seven NFL seasons, Big Ben is in the AFC Championship Game. ...
January 20, 2011
After weeks of interviews, rumors and more than a bit of speculation, the Minnesota Vikings pulled some important pieces of their new coaching staff together and made an official announcement ...
January 18, 2011
It didn't come as much of a surprise today when Brett Favre filed his retirement papers with the National Football League. The timing may have been a bit off—just a day ...
December 16, 2010
After just one game as the starting quarterback for the Minnesota Vikings this season, Tarvaris Jackson has been placed on injured reserve with a foot injury. Jackson was diagnosed with turf ...
December 15, 2010
With the Hubert H. Humphrey Metrodome still in a state of disrepair from last week's historic winter storm, it has been announced that the Minnesota Vikings' Week 15 Monday Night ...