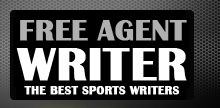 Yankee Addicts
Categories
Featured Sponsors
News published by
February 3, 2011
Does anyone remember LeBron James' Nike "Rise" commercial a while back? You know, the one that caused so much herp derp and led to that really lame, tasteless response from ...
December 1, 2010
At the beginning of this season, I projected that the Bears would finish 10-6, win the NFC North and make a miraculous Super Bowl run.Now, if you assume I'm an ...
August 22, 2010
This morning, All-Pro Steelers safety Troy Polamalu shocked the world by announcing he would cut his celebrated NFL Career short in order to pursue a singing career. When asked what motivated ...
July 24, 2010
The Madden NFL 11 player ratings are finally out! Who lost major points due to poor performance? Who gained major points due to great performance? Who's overrated? Who's underrated? After plenty of cross referencing, ...
July 20, 2010
There are only 22 states that actually have an in-state NFL Franchise. That leaves 28 states, and millions of people, wondering who they should root for. Instead of bandwagoning, I think ...
July 19, 2010
Last December, Jon Semcken III, a representative of Majestic Realty Group of Los Angeles, claimed that there's a 50/50 chance that his company could lure an NFL franchise to L.A. ...
July 18, 2010
On September 5, 2010, the Chicago Bears' 80-man roster space will be cut down to a 53-man roster. Alas, their six halfbacks will be cut down to a maximum of four. ...
June 17, 2010
I really like Johnny. He's probably one of my favorite Chicago Bears right now. One of only two Bears to make the 2010 Pro Bowl, this fifth round draft steal is ...
June 3, 2010
Everyone is wondering- Who will be the team to beat in 2010? Well, here's my personal opinion. You may be wondering, "Why did you pick a top 6? And not ...