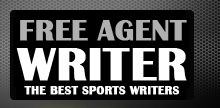 Yankee Addicts
Categories
Featured Sponsors
News published by
December 23, 2010
What defines an MVP? The MVP is what its real title suggests—the most valuable player on the field. As of right now, the two favorites for the MVP race ...
December 13, 2010
Game Balls - DeSean Jackson, LeSean McCoy, Michael Vick For the second time this season, we were treated to a feast of a game. The Eagles played the Cowboys ...
December 9, 2010
The Philadelphia Eagles average 30 rushing attempts in their eight wins, and 22 rushing attempts in their four losses. The Dallas Cowboys average 32 rushing attempts in their four wins, ...
December 2, 2010
If you're like me, you are an advocate of hard work. You enjoy watching people put in time and effort to be successful. So naturally, you've got to be upset ...
November 30, 2010
A source that usually provides very accurate and strong information has tweeted that he believes the Minnesota Vikings ownership is prepping to offer Philadelphia Eagles QB Michael Vick a "huge ...
November 22, 2010
After watching the game against the New York Giants on Sunday night, I couldn't help but sit there and say, "Wow, what a game!" While it was nowhere near a perfect ...
November 18, 2010
Perhaps not. However, with the recent success of Michael Vick, one cannot sit back without thinking what could have been. One thing is for sure and that is when Andy ...
October 28, 2010
Brad Childress has been a Brett Favre believer ever since he arrived in Minnesota. Chilly acquired him for the sole purpose of winning a Super Bowl. OK, that's very fine and ...
October 25, 2010
At the start of today's game versus the Tennessee Titans, I was optimistic that the Eagles were solid all around and would be able to pull out a win. As ...
October 6, 2010
Earlier today, when news broke that the Patriots traded Randy Moss to the Vikings for a third-round pick, I had some pretty mixed emotions. My initial reaction was that I would ...