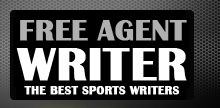 Yankee Addicts
Categories
Featured Sponsors
News published by
August 28, 2010
The Packers have been flying through the preseason and are especially high coming off a 59-24 rout of last year's AFC champions. Contributions are coming from everywhere: some expected, some ...
June 22, 2010
There are many pieces that go into the completion of a puzzle, especially a Super Bowl puzzle. If only one piece is missing, a puzzle can never be considered complete; ...
June 3, 2010
The Green Bay Packers came into 2009 with a lot of promise, lined with a veil of questions. Could Aaron Rodgers repeat his surprisingly great 2008 outing? Would the new ...
May 28, 2010
This is the first installment of a multi-part series running until the beginning of the 2010 NFL season. This list is a projected ranking of all 32 teams and their ...
May 21, 2010
The year is 1992 and new Packers GM Ron Wolf has just made a move that would change the NFL as we know it. He gave the Atlanta Falcons a ...
May 12, 2010
At the end of last year, five players were selected as candidates to receive the AP Defensive Rookie of the Year award. These players are listed in order of how ...
May 7, 2010
The Houston Texans' 2009 first-round draft pick Brian Cushing has been suspended for four games in 2010 for violating the NFL's substance abuse policy. Cushing was part of a trio of ...
May 7, 2010
These three owners are, in my opinion, solely responsible for the recent demise of their respective teams. Bad decision after arrogant decision after worse decision, have made their teams consistently ...
May 4, 2010
Spoiler alert!! Picks 6-10 can be found here . Last week you saw picks 6-10 of Ted Thompson's best selection of talent as a Green Bay Packer. Now, you will finally ...