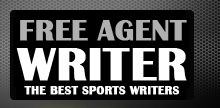 Yankee Addicts
Categories
Featured Sponsors
News published by
March 25, 2010
Dear Eagles Fans, I would like to start this message by saying thank you. Thank you for all the times you booed at me for throwing bad passes when my O-Line ...
March 24, 2010
The Denver Broncos should of entered the draft with two first round draft selections. Since one of them was traded to select Alphonso Smith in the second round last year, ...
March 23, 2010
In a few weeks NFL teams have the tough decision of making their first round selections. They could make the right choice and find a key component of their team ...
March 15, 2010
So let's take a look at the Broncos 2010 off-season so far. The Broncos have been very active in free agency signing several players to cost-efficient contacts. Signed: RB J.J. Arrington DT Justin ...
February 23, 2010
Welcome to the 2010 NFL Offseason. The Broncos will choose either 10th or 11th based on a coin toss in the 2010 NFL Draft. ...