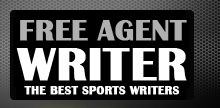 Yankee Addicts
Categories
Featured Sponsors
News published by
May 5, 2010
The First Year In Josh McDaniels first season as the head coach of the Denver Broncos, he ruffled more than a few feathers. Many Broncos fans were unhappy to see their ...
April 26, 2010
John Henderson released by Jaguars after eight seasons John Henderson has only ever played for the Jacksonville Jaguars after they drafted him No. 9 overall in 2002. One of the team's ...
April 25, 2010
The Denver Broncos 2010 Draft Class: WR: Demaryius Thomas, Georgia Tech QB: Tim Tebow, Florida Guard: Zane Beadles, Utah Center: J.D. Walton, Baylor WR: Eric Decker, Minnesota CB: Parrish Cox, Oklahoma ...
April 19, 2010
Marshall's Been Shipped to Miami Now that the Broncos have finally traded off Brandon Marshall, it's harder than ever to predict which way they will go in the 2010 NFL ...
April 17, 2010
Wide receivers are collectively bring grouped as the problem position in the NFL. It all started a few years ago with Randy Moss and the Vikings. Before him there were ...
April 17, 2010
I have been an avid Broncos fan for over 15 years. I've worshiped the likes of Elway, Shanahan, Shannon Sharpe, Ed McCaffery, Terrell Davis, Rod Smith...the list could seriously go ...
April 12, 2010
As of a few moments ago, Santonio Holmes became the newest member of the New York Jets.  The Steelers traded the former Super Bowl MVP for a fifth round pick in ...
April 5, 2010
McNabb has been traded! The Washington Redskins have officially acquired Donovan McNabb from the Philadelphia Eagles. The Eagles will receive a second-round pick (37th overall) in the 2010 NFL draft and either ...
March 26, 2010
Over the next two weeks I will go through the 2010 NFL Draft and act as the GM for each NFL team in the first round. The Rams are on the ...
March 26, 2010
Mcdaniel's has done a great job of bringing in veterans to fill depth gaps since he arrived in Denver. Though it will take a few drafts to get the players ...