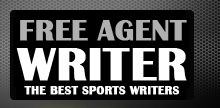 Yankee Addicts
Categories
Featured Sponsors
News published by
April 8, 2011
If former Auburn quarterback Cam Newton were a different skin color, it's hard to imagine that there would be this much hoopla surrounding the talented prospect. With just three weeks left ...
April 3, 2011
Who is going to be the biggest bust of the 2011 NFL Draft?No general manager wants to be responsible for dooming his franchise with a lackluster top-tier pick.While it's clearly ...
March 25, 2011
There is no longer a clear cut order as to how the 2011 NFL Draft stands to unfold. While most are now projecting Carolina to target a quarterback first overall, it's ...
March 24, 2011
The 2011 NFL draft doesn't stand to be any different from this perspective.Each season, there's at least one notable name who doesn't quite live up to expectations. And that's putting ...
March 22, 2011
The upcoming NFL draft has been masked by the ongoing labor talks which dominate all of the headlines. With the draft set for just over a month from now, teams ...
March 17, 2011
While Blaine Gabbert could quickly change minds in Carolina with a strong showing at his Pro Day, it's looking like Cam Newton is the preferred candidate to take over as ...
March 11, 2011
NFL Draft 2011: Bowers Could Make Titans Fans Forget About Albert HaynesworthOver the last three weeks, Da'Quan Bowers has gone from potential first overall pick to perhaps falling out of ...
March 11, 2011
2011 NFL Draft: Look for the Browns to Provide Colt McCoy With a New WeaponDespite the 5-11 record from last season, the Browns took some serious strides in the first ...
March 11, 2011
NFL Draft 2011: Can Cam Newton be the face of the Bengals?What else could you possibly expect from the Bengals? A team that constantly takes on players with character issues, ...
March 11, 2011
2011 NFL Draft: AFC News, Notes and Rumors Although most of the news on the NFL is regarding the CBA and the two sides' inability to agree, there is actually a ...