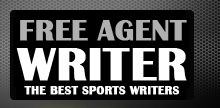 Yankee Addicts
Categories
Featured Sponsors
News published by FootBasket
June 22, 2010
There is no doubt that Lambeau Field, home to so many legends, is the greatest stadium in sports. Now, I'm going to refresh your memories of these Lambeau legends. Vince Lombardi ...
June 22, 2010
Steve Smith broke his arm on Sunday while playing flag football. Now, he will miss some time during training camp. Does that open the door for Terrell Owens? The Panthers need ...
June 21, 2010
Just a few years ago, the New York Giants won Super Bowl XLII over the undefeated New England Patriots. Now, they are battling to not be in the cellar of the ...
June 21, 2010
Albert Haynesworth is refusing to play with the Washington Redksins due to their switch to a 3-4 defense. Should he force a trade out of Washington? I think Haynesworth should and have ...
June 20, 2010
There is always a dark horse in everything. So, who are the top five dark horses to win Super Bowl 45? Some of the teams on this list might surprise you. ...
June 20, 2010
The Houston Texans barely missed the playoffs last season due to the Bengals and Colts rolling over for the New York Jets. But Houston looks to be a definite contender for ...
June 15, 2010
It's the middle of June and still nobody wants Terrell Owens. One team that could take chance on Terrell Owens could be the Tennessee Titans. The Titans need wide receiver help. ...
June 9, 2010
This year's NFL season looks to be one of the best in awhile. The Jets have a loaded defense that has been compared to the 1985 Bears, and the New ...
June 2, 2010
The Indianapolis Colts are one of the best teams in the NFL right now. Peyton Manning will retire soon; at the most he has five years left. What will happen to ...
June 1, 2010
This year's New York Jets defense looks to be a dominant one. Could this defense be the best ever? Well, they have the talent. The Jets added Jason Taylor and Antonio Cromartie ...