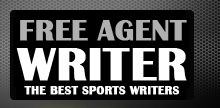 Yankee Addicts
Categories
Featured Sponsors
News published by FootBasket
June 1, 2010
Jamarcus Russell was cut by the Oakland Raiders for having a lack of effort and no one has signed him yet. Where should Jamarcus Russell go? One place that could revive his ...
June 1, 2010
ESPN is reporting that Ben Roethlisberger is now practicing with the Steelers after being accused of sexual assault by a 20-year-old college student. The quarterback is only allowed to take ...
June 1, 2010
ESPN is reporting that New England Patriots' wide receiver Randy Moss fired his recent agent, Tim DiPero. Moss' $27 million contract ends in 2010. Because he's not the only ...
May 29, 2010
Warren Moon should be considered one of the greatest quarterbacks in NFL history. Maybe not No. 1, but certainly in the top 10-20 range. Stats-wise, he's one of the greatest ...
May 14, 2010
Brad Childress is the coach of the NFC North champion Minnesota Vikings. Brad was able to take the time to answer these questions despite a hectic draft week ...
May 8, 2010
Thanksgiving always involves a little bit of football and this year is no different. As usual, the Detroit Lions and Dallas Cowboys will be in it. This year's games ...
May 7, 2010
There are many cases, both in sports and in pop culture, where a person's name can exceed their talent. Look at Michael Jordan and Shaquille O'Neal. Jordan is already ...