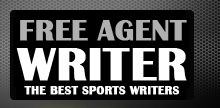 Yankee Addicts
Categories
Featured Sponsors
News published by
February 7, 2011
With a victory in Super Bowl XLV, the Green Bay Packers bring the Lombardi Trophy back to "Titletown." Aaron Rodgers has been elevated to official elite status with the MVP. ...
December 30, 2010
The Denver Broncos are arguably the most discombobulated football team in the land.  After two miserable seasons under the direction of wonder boy Josh McDaniels, the Broncos find themselves without ...
December 27, 2010
Last week it was on the road against the Oakland Raiders in the "Black Hole", and today, it was at home at Mile High Stadium in front of Denver Broncos ...
October 15, 2010
(Jacksonville, Fla.) The Jacksonville Jaguars are hosting the Tennessee Titans for the next Monday Night Football game on ESPN.  For the Jaguars, however, it is a tremendous opportunity to gain ...
September 30, 2010
This has been a bad week for the members of the Jacksonville Jaguars.  First, the Philadelphia Eagles whipped them Sunday afternoon, and now special teams specialist Kassim Osgood was pistol-whipped ...
September 28, 2010
According to Chris Mortensen of ESPN, the Jacksonville Jaguars have claimed former Buffalo Bills quarterback Trent Edwards off waivers.  Earlier this week, the Bills released Edwards after starting the season ...
August 7, 2010
The controversy coming out of the Dallas Cowboys camp regarding Dez Bryant made headlines a few weeks back.  Well, leave it to Tim Tebow to show everyone that no rookie ...
June 13, 2010
According to www.footballguys.com , Vince Young is the prime suspect in an altercation that took place early Sunday morning outside a strip club in Dallas. So far, the police have not ...
June 9, 2010
As the Jacksonville Jaguars enter the 2010 season, the team's future is in question.  After two sub-par seasons, head coach Jack Del Rio is definitely under the microscope, and his ...
May 17, 2010
Sad but true—the Jacksonville Jaguars, a young and struggling NFL franchise, is playing second fiddle to the Florida Gators, a college football powerhouse of the last 20 years. When the Jacksonville ...