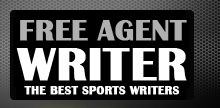 Yankee Addicts
Categories
Featured Sponsors
News published by
September 22, 2010
In light of the recent news of the Eagles announcing that Mike Vick is now deemed as the starting quarterback for the franchise, I had to stop and think for ...
August 17, 2010
It has been two seasons since we faced the Bengals, our starting quarterback learned something very important lesson that day: Games can end in ties.  This time it will be much different. ...
August 15, 2010
So...recent reports have indicated that Brain Westbrook has been taking to the Rams. Per Profootballtalk.com: "Brian Westbrook hasn't made any decision yet and hasn't told any teams he has made up ...
August 13, 2010
The Philadelphia Eagles very first pre-season game against the Jacksonville Jaguars is only hours away. Fans are starting to fill the lots and E-A-G-L-E-S Chants can be heard for miles.As ...
July 10, 2010
This time last year was a time of uncertainty for the Eagles.   All Eagles fans were praying for the man who was the mastermind of the Eagles defense for ...
July 3, 2010
There has been plenty of talk regarding the Philadelphia Eagles, but it seems that one player is hogging the spot light. Mike Vick and his "shenanigans" have been all you ...
July 3, 2010
It's been reported that Dallas Cowboys wide receiver, Miles Austin, is courting Kim Kardashian. My initial reaction was, "Good for you, Miles!" Then, "You know, this may NOT be good for ...
July 1, 2010
The rumors that McNabb will be throwing to a new "Jackson" sky-rocketed this afternoon when NFL Network's Steve Wyche reported that the San Diego Chargers' Vincent Jackson is currently in ...
June 30, 2010
The NFL Pro-bowl: It is said to be the "All-Star" game for the "best of the best"/ greatest NFL athletes of that year. If this was true, ...
June 26, 2010
Brandon Graham and Nate Allen, In my opinion, were almost perfect picks for the Eagles in the first and second rounds. Daniel Te'o-Nesheim (TAY-OH-Nesh-em) is the last person I expected ...