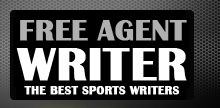 Yankee Addicts
Categories
Featured Sponsors
News published by
June 25, 2010
Micheal Vick. You hear that name and instantly begin to sigh. So much potential in that man, so much talent that could be put to good use if only he had ...
June 25, 2010
All of the so called NFL experts seem to think that the Eagles will fall short of the playoffs this season. After a decade of mostly winning seasons, it's hard ...
June 13, 2010
The 2009 season was the season of the Dallas Cowboys. They had a strong team where their long time team rivals, the Redskins, Had a series of sucky-ness. The NFC ...
June 12, 2010
Some players think that fans come with the territory of playing football. They tend to forget that the "fans" are the reason that they play and the sole purpose that ...
June 10, 2010
According to Philadelphiaeagles.com, Eagles starting strong safety, Quintin Mikell has suffered a minor MCL injury. The site does not elaborate on how the injury occurred. Chris McPherson of Philadelphiaeagles.com reported, ...
June 10, 2010
When you think of the "big play" wide-outs for Philly you instantly think Mike Quick. He (along with Ron "Jaws" Jaworski) holds the longest pass play in Philadelphia Eagles History. It ...
June 9, 2010
I remember as a kid, the usual way was: The man watched the game (Regardless of the sport) and the loving wife would stay out of the way unless it ...
June 8, 2010
This NFL off-season has been filled with awesome headlines and breaking news. It has to be one of the most exciting off-seasons in recent history. Stories filled with controversy, drama, ...
June 8, 2010
It's been several months for everyone to digest the fact that Donovan McNabb was dealt to the Washington Redskins after a very successful career in Philly, but was it the ...