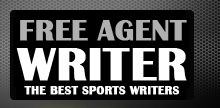 Yankee Addicts
Categories
Featured Sponsors
News published by
March 14, 2011
The recent arrest of Vikings cornerback Chris Cook sparked some questions about the effect of the NFL lockout on the player code of conduct and just how the league will ...
March 13, 2011
With the NFL free agents not allowed any contact with any NFL teams and NFL coaches not allowed to engage in any team-related activities, the 2011 NFL free agent class ...
March 11, 2011
No agreement between the NFLPA and the NFL owners could be reached by today's 5 pm deadline, and NFLPA chairman DeMaurice Smith's demands of ten years of audited financial records ...
February 18, 2011
AFC West detractors be damned; I have put together an 11-man roster that can blanket any receiving corp, sack any QB, and stop any running back dead in their tracks, ...
February 11, 2011
Now that the 2010 season is over, there isn't going to be much to talk about until the new CBA—collective bargaining agreement— is completed. So here's something to keep the ...
February 10, 2011
After a 2010 AFC West campaign that yielded only one team with 10 wins, 2011 pits the AFC West against much more fierce competition. In 2010, they played the NFC West ...
February 8, 2011
After a topsy-turvey 2010 season in the AFC West, things were finally starting to fall into place in the division—and then the sky fell on everyone.All of the teams in ...
January 28, 2011
The latest headline involving Chad Ochocinco has him stooping to a new low. Chad has challenged Cincinnati Bengals head coach Marvin Lewis to a "cage match" after Lewis responded to ...
January 25, 2011
Jay Cutler was sidelined for almost the entire second half of Sunday's NFC championship game due to what we all now know to be a sprained MCL. During the game, ...
January 21, 2011
The New York Jets go into Pittsburgh to take on the Steelers, and the Green Bay Packers head to Chicago to do battle with the Bears to decide who gets ...