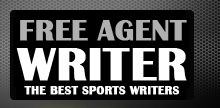 Yankee Addicts
Categories
Featured Sponsors
News published by
August 10, 2013
Arizona Cardinals Underrated—Rob Housler There's not a lot of discussion about Arizona Cardinals tight end Rob Housler. But there should be. Housler is 6'5" and ran a 4.46-second 40-yard dash at the 2011 ...
July 27, 2013
The Philadelphia Eagles announced on Twitter that wide receiver Jeremy Maclin tore his ACL in training camp Saturday. Maclin's injury is a devastating loss to the Eagles. He was projected to have ...
July 16, 2013
Patriots running back Shane Vereen has seen a rise in fantasy football recently. Over the last month his average draft position has risen from round eight to round six. He ...
June 16, 2013
Josh Freeman caught people's attention after his first full season as a starter in 2010. He threw for nearly 3,500 yards and had a fantastic ratio of 25 touchdowns to ...
June 11, 2013
The Indianapolis Colts signed Ahmad Bradshaw to strengthen their running back position. The Colts had one of the least impressive group of running backs entering this season so the Bradshaw ...
March 22, 2011
The Hartford Colonials have signed former NFL player/coach Jerry Glanville as their head coach and general manager. Glanville had a 63–73 record as a head coach in the NFL and brings ...
January 2, 2011
Former Florida Tuskers quarterback Chris Greisen has gone from being a backup in the United Football League, to starting in the UFL Championship Game, and now he will be activated ...
December 7, 2010
After rushing in the United Football League's Championship game, running back Dominic Rhodes now finds himself in the National Football League. The Indianapolis Colts brought Rhodes back due to their multiple ...
December 7, 2010
VIA The Cover Two After starting his career 6-0 with the Denver Broncos, head coach Josh McDaniels then lost 17 of his last 20 games, and today owner Pat Bolwen relieved ...
July 23, 2010
VIA: The Cover Two On April 26, 2010, the Cleveland Browns drafted Don Carey in the sixth round. Four months later, he was a member of the Jacksonville Jaguars. The ...