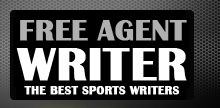 Yankee Addicts
Categories
Featured Sponsors
News published by
April 20, 2011
Seattle Seahawks' 2011-12 regular season schedule. With the announcement of this year's schedule, 'Hawks fans can begin to feel a sense of relief from the collective bargaining agreement debacle. Since the start ...
April 10, 2011
Ryan Mallet, is an intimidating 6'7" 238 lb. throwing machine. During his three year college career he threw for over 8,000 yards with 69 TDs, 62 of them coming in ...
April 9, 2011
The time is drawing near. The 2011 NFL Draft bandwagon has almost reached its destination—Radio City Music Hall in New York. On April 28-30, a color-wheel of emotions will flutter as college ...
April 2, 2011
Staying true to his roots is 21-year-old football sensation, Jake Locker.Instead of going to New York to attend the 2011 NFL Draft in person, he is electing to stay home, ...
March 31, 2011
Reports are pouring in from Seattle-based sources about Washington Husky QB, Jake Locker's, pro day performance yesterday.  According to Gil Brandt, a reporter for NFL.com, Locker displayed solid execution before an ...
March 27, 2011
Randy Moss, an NFL wide reciever notorious for making a horse's petute out of himself, has once again surfaced in the sports media spotlight. In what seemed a desperate attempt ...
March 25, 2011
Seattle Seahawks vs. Denver Broncos, September 12In Week 1, the 'Hawks beat the San Francisco 49ers in a convincing fashion (31-6).However, Seattle's next matchup in Denver against the Broncos would ...
March 13, 2011
Just when things seemed to be taking a pivotal turn towards reconciliation between NFL team owners and players concerning Collective Bargaining Agreement (CBA) negotiations, a dreaded fallback occurred. Thursday marked yet ...
March 5, 2011
One of the big questions the Seattle Seahawks will have to consider before the NFL draft is: Who will take over for QB Matt Hasselbeck after he is gone? A ...
February 17, 2011
JaMarcus Russell's future in the NFL is about as up-in-the-air as the current Collective Bargaining Agreement debacle going on between team owners and players. The Oakland Raiders' No. 1 overall ...