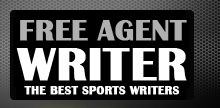 Yankee Addicts
Categories
Featured Sponsors
News published by
February 25, 2011
After day one of the NFL Scouting Combine, Denver Broncos head coach John Fox was asked about the quarterback situation that is currently brewing in the Mile High City.  Fox ...
February 6, 2011
The third time seemed to be the charm, as Shannon Sharpe was inducted to the Pro Football Hall of Fame Saturday after falling short on the previous two times he ...
February 2, 2011
There are a lot of changes in store for the Denver Broncos in the coming year.  Things started with the firing of Josh McDaniels, and continued with the hiring of ...
January 18, 2011
The Denver Broncos were horrible on defense this past season. The way that Josh McDaniels basically ignored trying to build the defense during his very brief, but still far too ...
January 8, 2011
The Denver Broncos have problems, there is no denying that.  Josh McDaniels did damage not only to the team's personnel, but also the the reputation of the Denver Broncos.  By trading ...