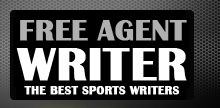 Yankee Addicts
Categories
Featured Sponsors
News published by
April 26, 2011
When you think of the New York Giants and Jets priorities heading into the NFL draft this week, the running back position doesn't come to the ...
June 26, 2010
Texans Quarterback Matt Schaub was in Houston, I in New York, so when an 832 area code came up on my caller id, I knew it could only be ...
June 4, 2010
After a disappointing end to a promising 5-0 start last year, and an epic collapse in the final month of the 2008 season, the Giants recognized that changes needed to ...
April 25, 2010
Without question, the New York Giants have had one of the most tumultuous and roller coaster offseasons Big Blue has ever seen. Between coaching changes, Antonio Pierce's release, and Osi Umenyiora's ...
April 18, 2010
Recently at a Gatorade event in SOHO New York, I had the privilege of meeting one of the most talented and distinguished quarterbacks in the NFL, New ...
April 17, 2010
There are a lot of critics out there, many of them reside in the New York media, so it's no wonder former San Diego Chargers running back LaDainian Tomlinson ...
April 15, 2010
It was a star-studded night, as athletes and entertainers united Tuesday under the Gatorade banner in SOHO New York. New York Giants quarterback Eli Manning, Jets running back ...
April 12, 2010
The Statue of Liberty stands in New York to symbolize many things. Within those meanings are messages, some of which are written on the statue itself.  One of the messages is ...
March 23, 2010
For only $7.99 you can have the time of your life and keep your seed in its package, a fair price considering every NFL athlete is making money that can ...
March 16, 2010
The New York Giants will host the first game in the new Meadowlands Stadium this fall, after a coin toss was used to determine which New York team would get ...