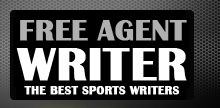 Yankee Addicts
Categories
Featured Sponsors
News published by
August 21, 2010
In the last two Bengals preseason games, there have been players that have stepped out of the shadows and impressed spectators, but the entire team has not filled expectations.   Against the ...
August 3, 2010
  Last year, the Bengals first round pick Andre Smith didn't sign with the team until late into training camp. After Smith signed, he hurt his foot and was out for ...
July 27, 2010
It is now official that Terrell Owens will be a Cincinnati Bengal this season. He agreed to the terms of the contract as Bengals.com reports and will be in the ...
June 28, 2010
Prior to last season I made the statement that the Bengals should switch to a 3-4 base defense. My argument was that they had more depth and talent at linebacker ...
June 28, 2010
Last season the Bengals lived and died by the run, and they lucked out enough to make it to the playoffs with a fourth ranked offense.   The only time Carson Palmer ...
June 21, 2010
  This past season the Bengals have taken chances on a few players that may not have came from the best situations prior to joining the organization.   The team took major risks ...
April 23, 2010
The theme coming into this offseason for the Bengals was to get quarterback Carson Palmer more weapons to be affective. They went out into free agency and signed Antonio Bryant, ...
March 18, 2010
When you look at the latest Mock Drafts they have interesting choices for the Cincinnati Bengals with their number one pick in the NFL Draft. They have Cincy picking USC ...