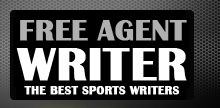 Yankee Addicts
Categories
Featured Sponsors
News published by
December 25, 2011
The Vikings may be claiming that Adrian Peterson's injury is nothing more than a sprain, but there is reason to believe that the injury is far more serious than they ...
December 25, 2011
The Eagles rolled over the Cowboys, but LeSean McCoy was carted off with an ankle injury, possibly making it a bittersweet win.The Eagles are fighting to salvage some respectability by ...
November 27, 2011
We're getting down to the wire now in fantasy football and one start 'em, sit 'em decision can be the difference between you going on to win your entire fantasy ...
November 26, 2011
It's tough when you find one of your superstars with a tough matchup and one of your lesser players faces a soft defense.Do you start the superstar or the guy ...
November 20, 2011
It's only Week 11, but some teams are running away with their respective divisions. While divisions like the AFC West remain up for grabs, the disparity between the No. 1 ...
November 13, 2011
The New York Giants are going to have their hands full with the San Francisco 49ers as it is, but the injuries they have sustained makes victory impossible to attain.The ...
October 29, 2011
Put down your draft magazine. Wipe away those tears. Your team may not have gotten off to the start you wanted, but there is still a glimmer of hope for ...
October 29, 2011
Tim Tebow is humble, the definition of a character guy and a fearless leader. He's got the moxy, fearlessness and an ability to come through in the clutch, all of ...
October 22, 2011
What type of twisted world do we live in where Jason Taylor gets to pretend like he's a quarterback guru? Taylor and the Dolphins are 0-5, but he has the ...
October 22, 2011
There are Top-10 superstar prospects who are in the process of lighting their draft stock on fire. Before the season began, it seemed as though these prospects were locks to ...