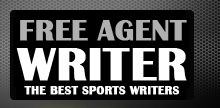 Yankee Addicts
Categories
Featured Sponsors
News published by
July 20, 2010
With his one year contract with the Buffalo Bills coming to an end, T.O. is currently unemployed. No teams are jumping at the chance to add him to their roster, ...
July 19, 2010
With centerpiece Donovan McNabb's exit from the team, the offense has been left in the hands of the barely qualified backup quarterback Kevin Kolb. Kolb's career has been lackluster, but he ...
July 8, 2010
If you didn't know the name Michael Vick before 2007, you certainly do now. Vick continues to add to the list of athletes who are recognized more for their off-field antics ...
June 29, 2010
Philadelphia Eagles backup quarterback Michael Vick can't seem to avoid trouble. The latest controversy surrounding him? A shooting last week outside his birthday party that has NFL Commissioner Roger Goodell ...
May 26, 2010
Surprising some, the New York Giants and the New York Jets have won the bidding battle for hosting the 2014 Super Bowl. Super Bowl XLVIII will be held at the ...