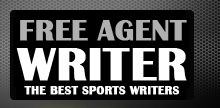 Yankee Addicts
Categories
Featured Sponsors
News published by
December 18, 2010
With the last second loss to Tampa Bay eliminating the Redskins from playoff contention, (dang you Gano!) it is time to look to the future and see who this great ...
October 31, 2010
Last week I picked and gave my analysis for every game and went 6-3 and hope to keep my good luck with more key picks this week.Enjoy! *NOTE: The Philadelphia Eagles, ...
October 6, 2010
According to NFL.com. Running back Clinton Portis is expected to miss four to six weeks after being diagnosed with a third degree groin separation, coach Mike Shanahan said Wednesday. The injury will not require ...
October 6, 2010
Ryan Torain came in to this league in the fifth round of the 2008 NFL draft, being selected by Mike Shanahan and the Denver Broncos. He was going to be ...
October 3, 2010
There are many questions about this game."Can the Redskin's Defense stop Vick?""Is Santana Moss the Only Target?""Are The Redskin's on the downfall?"But That's the main question. "Will McNabb Win?" All of you ...
September 7, 2010
After many months of talking and predicting the regular season is only a few days a way. Washington had a season to forget last year with a 4-12 record and ...
September 3, 2010
Will I make It?That is what the Redskins running backs are saying right now, as last night was their last chance to show the Redskins coaches what they've got before ...
August 28, 2010
Redskins (2-1) defeated the New York Jets (1-2) 16-11 with a 15-yard touchdown pass by Richard Bartel late in the game. The Redskin's offense was nice. Rex Grossman threw for 111 ...
August 22, 2010
Every year NFL Rookie QBs come around hoping to lead their teams to championships and excel in the NFL. But some achieve their goals and most become a "Bust."Here is ...
August 17, 2010
You heard it here folks! Brett Favre is in Minnesota. According to NFL network at 4:54 Eastern time Brett Favre has landed in Minnesota in his private plane and is being escorted ...