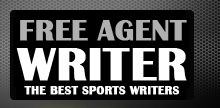 Yankee Addicts
Categories
Featured Sponsors
News published by
August 15, 2010
Every year a few NFL teams surprise a lot of people.Like the '08 Dolphins who went from 1-15 to 11-5 or the '09 Saints who went from 8-8 to Super ...
August 14, 2010
T-3. Dallas Cowboys Many people predict the Cowboys to go to the Superbowl, but i'm not buying it.  Don't get me wrong, the Cowboys are loaded with Romo, Austin, ect.. But ...
August 14, 2010
The Redskins rocked the debut of the Shanahan regime with a franchise record for most points scored (42) in the preseason since 1988. They fell 3-0 early, but the rest ...