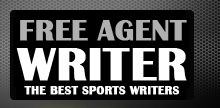 Yankee Addicts
Categories
Featured Sponsors
News published by
August 16, 2010
When all the smoke cleared. When the questions surrounding Tim Tebow were answered. One thing was very obvious... Kyle Orton will lead the Broncos in 2010. For a team that has lost ...
August 16, 2010
For the millions that tuned in to see the debut of Tim Tebow, he would not disappoint. In the Broncos debut against Cincinnati, Bronco fans can come away with a sigh ...
August 14, 2010
With tomorrow night's game comes great anticipation. It's like the whole football nation is holding its breath. Denver takes the field in what should be just a warm up, a second ...
August 13, 2010
  Are you ready for some football? Sunday is just around the corner and the Broncos are ready to take the field against unfamiliar faces. Full speed, Full tilt. As the Bengals look ...
August 11, 2010
According to the Baltimore Sun, the most logical place for Baltimore to solve their problems at cornerback is the Denver Broncos. "The Broncos' areas of weakness—linebacker, running back and wide receiver— are ...
August 11, 2010
With the broncos first pre-season game just days away, the first depth chart has been released. While there are few suprises, it is not without it's share of intrigue, competion, ...
August 8, 2010
If you were one of the 20,000 plus fans that showed up to Invesco Field Saturday night, you know the atmosphere was electric, the action was spirited and the competition ...
August 8, 2010
It began early in Saturday evening's practice. As Kyle Orton dropped back for a pass to Jabar Gaffney, Ayers steamrolled past left tackle D'Anthony Batiste. As Ayers pulled up short from ...
August 8, 2010
Wow what talent, what ability, and what a show! Too bad it ended, AGAIN, shrouded in doubt and misfortune. After making a magnificent catch in the end zone thrown by ...
August 7, 2010
As the 2010 season approaches, expectations are higher than normal in Oakland. JaMarcus Russell has left the building, Rolando McClain was their first pick in the 2010 draft, and JaMarcus ...