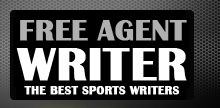 Yankee Addicts
Categories
Featured Sponsors
News published by
August 5, 2010
With Dumervil going down with a season ending injury, the Broncos' defense seems in disarray. The questions have already started to swirl around Dove Valley and "Doom" seems to be ...
August 5, 2010
With training camp underway and the QB competition heating up, Brady Quinn is flying under the radar. After Josh McDaniels traded for Quinn this offseason it appeared that Quinn was ...
August 2, 2010
Having spent the last year-and-a-half getting rid of distracting players, McDaniels is filling the void with players who have dedicated themselves to avoiding trouble. McDaniels does not have to be ...
August 2, 2010
With Training Camp seeing it's second day of action, one thing is for certain: There is strong leadership and appreciation in Dove Valley. Last week Dallas Cowboys rookie Dez Bryant made ...
July 31, 2010
J.J. Arrington has been a Bronco for two years, but he will not play a game for the team. In a surprise move, Denver traded the running ...
July 30, 2010
Sunday is fast approaching, and giving Brian Xanders workman like approach to getting deals done one has to believe Demaryius will also report on time. Thomas is the last of ...
July 28, 2010
Yes, it was inevitable. I have finally written my first Tim Tebow article. While I am certain that there are those who have had their fill of all things Tebow, there ...
July 28, 2010
Here it is. Another article written by yours truly covering the Denver Broncos TEAM and those few have heard of. While a lot of Bronco fans have heard little of ...