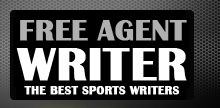 Yankee Addicts
Categories
Featured Sponsors
News published by
June 26, 2010
Earlier this week, the NFL pitched the idea of an "enhanced season" to the NFL Players Association. This enhanced season would involve expanding the regular season from 16 to 18 ...
June 19, 2010
After missing every mini-camp and off-season practice, Albert Haynesworth informed the Washington Redskins and the media that he was demanding a trade or release. Haynesworth made roughly $32 ...
June 4, 2010
In 1998, Atlanta Falcons RB Jamal Anderson rushed for 1,846 yards and had 16 total TDs. This made him the first true fantasy football sleeper of all time. There may have ...
June 3, 2010
In the fourth round, that's when you'll typically see tight ends fly off the board. Antonio Gates, Dallas Clark, Vernon Davis, Jason Witten, Tony Gonzalez. Those guys will be selected ...
June 2, 2010
The second round is as important as the first, most notably because there is potential for drafting a bust. In addition, drafters need to focus on the other teams and ...
June 1, 2010
This upcoming football season is influx with new young talent at key positions. With the pass-happy trend the NFL has taken, RBs are at all time premium in the ...
May 9, 2010
If you look around the Internet for fantasy football positional rankings, nobody has anything shocking happening the first round. It's all pretty standard. Chris Johnson, Adrian Peterson, Maurice Jones-Drew, Ray Rice, ...
April 27, 2010
Former Eagles standout Brian Westbrook passed a physical examination conducted by the St. Louis Rams according to Les Bowen of the Philadelphia Daily News . It seems likely that Westbrook will ...
April 24, 2010
C.J. Spiller is a role-player. Yet, there are reasons that Spiller is widely considered the No. 1 RB prospect in the 2010 NFL Draft. He has "home run" speed and consistently ...
April 7, 2010
It has been said it takes about three seasons to properly evaluate a draft class. So what will people say about the 2010 NFL Draft in 2013? I can tell ...