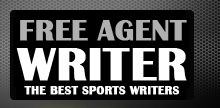 Yankee Addicts
Categories
Featured Sponsors
News published by
March 31, 2011
NFL Draft 2011 will see the Charges address glaring defensive end needs The San Diego Chargers are far from a perfect team. For the first time in as long as ...
March 30, 2011
The AFC is supposed to be the power conference. The Steelers, the Patriots, the Colts and the Chargers were supposed to be the power house teams that dominate the NFC for ...
March 22, 2011
The NFL draft this year might consist of 10 cameras, 1000 fans, and a really angry commissioner. Still, the draft will continue whether anyone shows up or not. Since the ...
March 21, 2011
The beginning of football season (if we have one) means another installment of the HBO series Hard Knocks. This entertaining documentary follows an NFL team through their training camp.We get ...
March 19, 2011
The NFL Lockout has created plenty of uncertainty in regards to the future of next season, but that doesn't mean that business has ceased all together. While the owners and ...
March 13, 2011
Where Ahmad Bradshaw ends up this offseason is really anyone's guess. While the NFL attempts to settle its labor dispute, Bradshaw has to wait to find out where his fate ...
March 8, 2011
It's hard to put into words, or to quantify accurately what it takes to be the next Peyton Manning or Ndamukong Suh. Besides being blessed with incredibly athletic ability they ...
March 8, 2011
There is no question that the NFL lockout affects more than just the players livelihood. Don't think for a minute that the average NFL hasn't grown accustomed to their yearly ...
March 4, 2011
The 2011 NFL Draft is around the corner and teams are analyzing every piece of relevant data they have about the hopeful men who plan to play on Sundays. A ...
February 28, 2011
The hottest name in the NFL offseason hasn't been Tom Brady, Aaron Rodgers, or even Cam Newton. No, the biggest name circling several NFL teams as the draft approaches is ...