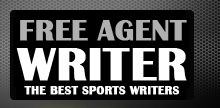 Yankee Addicts
Categories
Featured Sponsors
News published by
May 4, 2013
As of late, the Dallas Cowboys have had a knack for setting very high expectations for themselves and then falling short of them.Be it the team's one playoff win since ...
August 10, 2010
The expectations for the Dallas Cowboys this year are as high as can be.  To most Cowboys fans, anything less than a Super Bowl victory on their own turf will ...
July 29, 2010
When the career of Emmitt Smith is discussed, the word's "greatest" is thrown around a lot. Greatest player in Dallas Cowboys history. Greatest running back of all time. Both of those statements hold ...
July 26, 2010
They are often viewed as the primadonnas, the divas, the locker room infections, the attention seekers. They are the wide receivers. The reality is that most of these guys do ...
July 22, 2010
The Dallas Cowboys' first-round draft pick (24th overall), Dez Bryant, has agreed to terms on a contract. According to ESPN, the contract will be worth $11.8 million over five ...
July 22, 2010
Raider fans, I read your articles and I wonder what it is that makes you think the Oakland Raiders will be so good this season.  If anything, they will be lucky ...
July 22, 2010
Without a good offensive coordinator, even the most skilled units in football will see limited production. The job of an offensive coordinator requires him to call plays that will first and ...
July 21, 2010
A football teams quarterback is often regarded as the most important player on the team, and, therefore, they are often the highest paid player on the team. Every team ...
July 15, 2010
All champions have one thing in common, they are able to win when it matters most. The Cowboys are coming off an 11-5 season and their first playoff victory in over ...
July 15, 2010
Every year, there's Christmas, your birthday, Thanksgiving, and then the Madden release date. This year's Madden 11 will be released on August 10th. EA Sports has slowly been releasing the ...