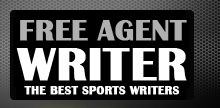 Yankee Addicts
Categories
Featured Sponsors
News published by
April 30, 2011
With their final pick in the 2011 NFL Draft, the Eagles added to their backfield by taking USC fullback Stanley Havili.Although he's listed as a fullback, Havili is considered more ...
April 24, 2011
In Week 2 of the 2011 NFL season, the Eagles will head to Atlanta for a prime time matchup with the Falcons. For Michael Vick, this won't be his first ...
April 21, 2011
For the second year in a row, Donovan McNabb's name has been surrounded with trade speculation this offseason.  It isn't because there's an up and coming quarterback behind him who's ...
April 11, 2011
It seems pretty apparent that the Eagles are interested in taking a quarterback in this year's draft. Could they be interested in someone who fits the dual-threat mold that Donovan ...
April 8, 2011
There's no doubt in my mind that the Eagles will take a running back at some point in this year's draft.  Where that may be, I'm not sure.A lot of people ...
March 31, 2011
After seeing the talents of Clay Matthews first hand last season,
March 30, 2011
In the 2010 NFL draft, the Eagles traded up to the 13th overall selection to draft Michigan defensive end Brandon Graham.  After being named the opening-day starter, Graham eventually lost ...
March 29, 2011
There's no denying that the Eagles saw their fair share of poor play from the corner position in 2010. This is one of the big reasons just about every Eagles ...
March 25, 2011
There has been a lot of discussion during the offseason about the Eagles' quarterback situation. In those discussions, it seems there are a few certainties. One is that Michael Vick will be ...
March 24, 2011
Although most people expect the Eagles to look for an offensive lineman or a corner in the first round, the linebacker position is still a direction the team could go. Stewart ...