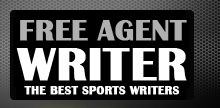 Yankee Addicts
Categories
Featured Sponsors
News published by
July 31, 2010
After back-to-back 9-7 seasons and a very mediocre 34-34 after four campaigns running the New York Jets, General Manager Mike Tannenbaum was rewarded with a contract extension on the eve of the ...
July 26, 2010
The 2009-10 edition of the New York Jets featured a running game without peer that took the pressure off a rookie quarterback who at times looked great and others looked ...
June 15, 2010
While the New York Jets have made several positive moves in the offseason to strengthen themselves on both sides of the football, the one place the team remains deficient is a competent ...
May 25, 2010
Why is the NFL killing the golden goose known as the Super Bowl? For what possible benefit does the NFL derive from a revenue standpoint in having this game outside in ...
May 18, 2010
No. 7 versus No. 6. Both are from big-time collegiate programs in USC and Michigan. Chad Henne is 25, while Mark Sanchez is just 24. Henne and Sanchez are franchise quarterbacks that will only ...
May 17, 2010
The NFL is committing economic suicide if they award New Meadowlands Stadium in East Rutherford, New Jersey, with the 2014 Super Bowl. Why would the NFL want to place the ...
May 1, 2010
Team Tannenbaum has spun the release of Alan Faneca with the style and prose of a skillful candidate running for public office. But, what is the real effect of losing this ...
April 28, 2010
The only one happier than Raider Nation with the acquisition of former Redskin Jason Campbell must be former San Diego Charger bust Ryan Leaf. For with JaMarcus Russell's exit from Oakland ...
April 27, 2010
The Jets got younger this weekend with the drafting of Joe McNight and Vlad Ducasse. But did they get better, as they try to stay focused on the team's first legitimate ...
April 20, 2010
Anthony Davis. Lam Jones. Mike Haight. Roger Vick. Jeff Lageman. Browning Nagle. Marvin Jones. Mike Nugent. Blair Thomas. Johnny Mitchell. Kyle Brady. Ouch. Ken O'Brien over Dan Marino. It still stings just to ...