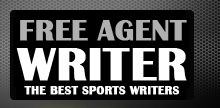 Yankee Addicts
Categories
Featured Sponsors
News published by
October 4, 2010
The New York Jets routed the Buffalo Bills in Orchard Park on Sunday 38-14 to stay undefeated in the AFC East while moving to 3-1 overall. Both LaDanian Tomlinson as well ...
September 27, 2010
Mark Sanchez has arrived. After 21 games in the National Football League (more games than he played at the University of Southern California), Mark Sanchez has found his groove. Not only has Mark ...
September 20, 2010
  The Miami Dolphins are 2-0. The New York Jets are 1-1. Both clubs are headed by coaches that don't miss too many meals. Jason Taylor will come back to Miami as a hated ...
September 15, 2010
Everything that could go wrong Monday evening in the Meadowlands seemingly did so as the New York Jets crashed and burned in a very forgettable season opener, 10-9 to the Baltimore ...
September 11, 2010
Sometimes you really have to question the motives of New York Jets Head Coach Rex Ryan. It's one thing to curse like a sailor and turn-off the likes of Super Bowl head coach Tony ...
September 6, 2010
Salary negotiations are always an adversarial process in which both sides must bend or like a knot in a rope, the knot only becomes tighter if both sides continue to ...
September 5, 2010
With the final cuts in place and the 53-man roster set for the 2010 season, when are New York Jets fans going to hold General Manager Mike Tannenbaum accountable for ...
August 23, 2010
New York's anemic 9-3 victory over the hapless Carolina Panthers displayed another week of passing inefficiency on the part of quarterback Mark Sanchez, who went just 5 for 10 for ...
August 10, 2010
  It's official. New York Jets general manager Mike Tannenbaum and principal owner Woody Johnson have no intention of signing All-Pro cornerback Darrelle Revis. The only question is when are they going to ...
August 9, 2010
While Mike Tannenbaum runs out of reasons to rationalize the Darrelle Revis holdout, the one silver lining in this training camp is the possibility of savvy veteran Laveranues Coles back with the Jets for ...