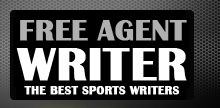 Yankee Addicts
Categories
Featured Sponsors
News published by
April 26, 2011
College football is the cash cow of most university athletic programs. The institution has quite a few different types of people and personalities involved.The biggest part of what makes a ...
December 20, 2010
Anyone who saw the Philadelphia Eagles beat the New York Giants today knows two things:First, that Matt Dodge is the Giants' Punter and he is the most googled punter on ...
October 26, 2010
Here is the first look at starts and sits for Week 8. Check this out just in case you have to put in an early bid into waivers.This week is ...
October 22, 2010
It's week 7 and we are going to get deep this week. I have been accused of picking the easy scorers lately so I am going to dig into the ...
October 18, 2010
Willis McGahee will most likely be traded from the Baltimore Ravens before Tuesday's trade deadline. In a game against the Patriots which would seem to call for all healthy weapons ...
October 18, 2010
Tony Romo is due to have his non-throwing hand looked at today after injuring it in Sunday's loss against the Vikings.According to the Dallas Morning News, the Cowboys' quarterback injured ...
October 18, 2010
Decisions, decisions. There is quite a bit that has to be decided before next week's games. And as exciting as the games were on the field, the off-field decisions to ...
October 17, 2010
What you should know about Dallas: Dez Bryant is a game time decision. His preseason ankle injury still seems to be bothering him. With or without him, expect Romo to ...
October 17, 2010
What you should know about Oakland: Darren McFadden was inactive last week and is listed as questionable and a game time decision. Jason Campbell will be starting at quarterback since ...
October 17, 2010
Week 6 of the NFL season is hours from getting started. Here is the last minute information you should know about who is starting, who is too injured to go and ...