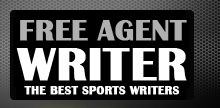 Yankee Addicts
Categories
Featured Sponsors
News published by
July 12, 2010
Have you ever wondered how much Jeff Backus gets paid to pad the opposing teams sack total? Or how much your favorite player makes? Or who the highest and lowest ...
July 9, 2010
I'll warn you now, this subject may not be totally appropriate for children. If that bothers you, please stop reading now.   ESPN Analyst Jeremy Green, son of former NFL head ...
July 9, 2010
Hello folks, sorry I was away for a week, I had some things to take care of. But I'm back now, and I brought some new speculation with me! I woke ...
July 3, 2010
Twenty-eight-year old Logan Mankins, the left guard for the New England Patriots, is asking to be traded. The reason for his request is simple; he doesn't feel the Patriots front ...
July 2, 2010
Guess who's back (back-back-back), back again (again-again-again), Dre' Bly's back (back-back-back), tell a friend! Sorry for the famous Detroit MC reference there, but this is an exciting day for fans of ...
July 2, 2010
The Detroit Lions officially start training camp on July 30. That leaves roughly 29 days for Lions GM Martin Mayhew and team President Tom Lewand to negotiate contracts with all ...
June 29, 2010
For those that haven't been to the Detroit Lions official website lately, they currently have a running poll on who fans think was the biggest offseason addition and why. Voting ...
June 27, 2010
On the same day the Detroit Lions were forced to stop their final minicamp practice early because of a massive team brawl, team President Tom Lewand was arrested on suspicion ...
June 25, 2010
The headline is no joke. Head coach Jim Schwartz was forced to stop practice early Friday morning because of another fight between the offense and defensive players. The NFL had ...
June 23, 2010
It has been widely reported that the Lions were penalized by the NFL because of offseason workouts that were "too intense" according to league standards. The Lions were originally scheduled to ...