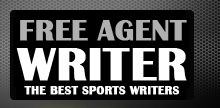 Yankee Addicts
Categories
Featured Sponsors
News published by
April 30, 2016
The Minnesota Vikings made just one pick on Friday night of the 2016 NFL draft, using the 54th overall pick on Clemson cornerback Mackensie Alexander before trading down and out ...
April 28, 2016
Bleacher Report's 2016 NFL draft tracker will keep you up to date on all the picks made by the Minnesota Vikings, who are scheduled to make eight selections. The madness begins ...
April 28, 2016
The highly anticipated 2016 NFL draft is finally here for the Minnesota Vikings and 31 other teams, with the first round kicking off Thursday night from Chicago. Barring a move up ...
April 27, 2016
The Minnesota Vikings have utilized the NFL draft to build a young, talented roster that won the NFC North title during the 2015 season.  Now, general manager Rick Spielman and the Vikings ...
April 25, 2016
Grabbing a threat for quarterback Teddy Bridgewater in the passing game remains the odds-on favorite for the Minnesota Vikings with the 23rd overall pick in the 2016 NFL draft.  Mock drafts ...
April 18, 2016
The Minnesota Vikings are entering the 2016 NFL draft with the intention of building on the base of talent that helped drive a run to the NFC North title during ...
March 26, 2016
A future in the NFL isn't always guaranteed for free agents on the wrong side of 30.  The NFL is a young man's game and a projection business, making it difficult ...
March 24, 2016
The waiting game can be a difficult one for veteran NFL free agents.  Just ask retired safety Matt Bowen and current free agent Geoff Schwartz, who remains unsigned despite the market ...
March 21, 2016
While the big-money player acquisitions dominate the headlines of NFL free agency, teams that re-sign their own free agents often represent the best moves made early in the new league year.  I promise ...
March 21, 2016
The market has mostly been picked clean of the biggest names available in NFL free agency since opening on March 9.  However, a number of players remain unsigned during the second ...