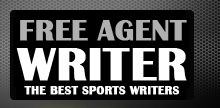 Yankee Addicts
Categories
Featured Sponsors
January 3, 2011 · Brian DiTullio · Jump to comments


The 2011 NFL Draft Order is set through the first part, with the NFL confirming the official order of the draft through the first 15 teams.
With the Seahawks win, the order goes Carolina, Denver, Buffalo, Cincinnati, Arizona, Cleveland, San Francisco, Tennessee , Dallas, Washington, Houston, Minnesota, Detroit, Miami, and St. Louis.
The Bills get back into the Top 5 with their loss, and the Browns go from around the 10th spot to the sixth spot.
With thes positions, the questions on who will draft a quarterback in the first round only will get stronger, and the pressure to solve that dilemma for many of these front offices only will increase.
Jimmy Clausen may play second fiddle to Andrew Luck next year, or the Panthers may draft him some help and give it one more go. The Bengals have to decide if they want to draft a young wide receiver high, or invest in their defense.
This same decision applies to the Browns, and we'll see who is right, and who w...

Read Complete Article at Bleacher Report - NFL
Article is property of BleacherReport.com