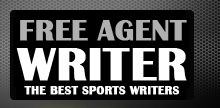 Yankee Addicts
Categories
Featured Sponsors
February 7, 2011 · Brian DiTullio · Jump to comments


Green Bay QB Leaves Brett Favre In The History Books With MVP Honors
Aaron Rodgers put any doubts that he is a worthy successor to Brett Favre to rest a long time ago, but by not only winning his first Super Bowl, but the MVP trophy as well, it shows that the only comparisons you can make between the two quarterbacks will be positive ones.
Rodgers had a 111.5 QB rating by going 24-39 for 304 yards and three touchdowns. Rodgers had no interceptions on the day, and he could have had more completions if his receivers hadn't dropped so many passes.
It seemed like the game could turn on a couple of drops, but the Packers kept finding ways to hold on and keep the lead. A lot of that was due to Rodgers leadership, who kept the offense moving and kept challenging his receivers to step up, even after a bad drop.
Rodgers now can be put in the "elite" category of quarterbacks with this season and his nine postseason touchdown passes. Rodgers remains cool under press...

Read Complete Article at Bleacher Report - NFL
Article is property of BleacherReport.com