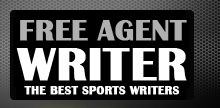 Yankee Addicts
Categories
Featured Sponsors
February 3, 2011 · Brian DiTullio · Jump to comments


Ben Roethlisberger May Not Have Done Anything Wrong, But Perception Is Reality
Ben Roethlisberger spent Wednesday night having a good time at a local piano bar in Texas, buying drinks for everybody and singing karaoke. A TMZ report and video captured some of the fun.
There's absolutely nothing wrong with that except Roethlisberger is the starting quarterback of the Pittsburgh Steelers and the Super Bowl is on Sunday.
Party next week, moron.
If my memory is correct, Roethlisberger got into some pretty big trouble last year for hitting the bars pretty hard, drinking too much and allegedly going a little too far with a drunk girl. While it appears last night was pretty tame, it doesn't matter.
Roethlisberger has a party boy image he supposedly is trying to shake, and with the biggest game of the year in the middle of the biggest media circus of the year isn't the best place to go out and have a quiet night at a piano bar when you're trying to shake th...

Read Complete Article at Bleacher Report - NFL
Article is property of BleacherReport.com