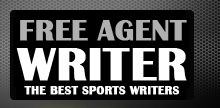 Yankee Addicts
Categories
Featured Sponsors
September 8, 2012 · Chris Trapasso · Jump to comments


Jonathan Vilma and Will Smith are free from NFL commissioner Roger Goodell's bounty suspension. Now what?
What does it mean for the New Orleans Saints, a team that was a few plays away from the NFC Championship Game a year ago?
Well, Vilma and Smith are vital aspects of an aggressive, hard-hitting defense that certainly had its struggles in 2011.
The Gregg Williams-less unit, one that wasn't necessarily stout in the first place, may have been lost without those two this season.
Smith has totaled 25 sacks over the last three years, and Vilma, though not as dynamic as he once was, leads by example and is the defensive play-caller.
Even if the suspensions were upheld for the two stout defenders, many believed the Saints, with Drew Brees under center and a dynamic set of playmakers on the offensive side of the ball, were set to remain legitimate NFC contenders.
But there's been a creeping suspicion that the overall spirit of the club was irreconcilably shaken by the bounty scandal and subsequent punishments.
Yes, Sean Payton is still done for the year.
But after an extremely discouraging and utterly humiliating offseason, any morale-boosting news should be expected to light an even bigger and longer-lasting spark than normal.
Smith should play against the Redskins, and Vilma is still recovering from a knee injury. It's obvious: When they return, the Saints defense will be better.
But winning their appeal means more than that.
It is something positive for New Orleans to rally around; something that erases any lingering feeling that the bounty scandal would doom the Saints in 2012.
Read more NFL news on BleacherReport.com