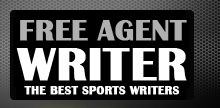 Yankee Addicts
Categories
Featured Sponsors
January 24, 2011 · Brian DiTullio · Jump to comments


Caleb Hanie showed the world how he handles pressure on Sunday versus the Green Bay Packers. He did it by going out there against incredible odds and playing his heart out.
He didn't have a good day, but what do you expect from a guy who probably hasn't taken a rep in practice with the first team unit in months?
Hanie showed a lot of heart and courage in adverse conditions, and that's how you find out if you have a quarterback or not. Jay Cutler responded to adversity by quitting and ignoring the team. He wasn't playing anymore, so what did he care?
Going into 2011, the Bears now have a quarterback decision to make. Do they stick with Cutler? Do they give Hanie a shot?
None of these are easy decisions. Cutler has talent, but he's obviously not reliable in crunch time if he has a boo-boo. Other quarterbacks have to be dragged off of the field in the playoffs when they're injured, Cutler just shrugged.
Hanie now has earned a shot to move up and ...

Read Complete Article at Bleacher Report - NFL
Article is property of BleacherReport.com