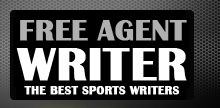 Yankee Addicts
Categories
Featured Sponsors
February 7, 2011 · Brian DiTullio · Jump to comments


Woodson Tells NFL.com He Plans On Playing In 2011
Charles Woodson injured his collarbone at the end of the first half of the Super Bowl, but the Packers soldiered on without him and won the Super Bowl, beating the Steelers 31-25.
After the game, Woodson, 34, said he doesn't plan on retiring and will be back with the Packers in 2011.
Assuming their is a 2011 season, that's good news for the Packers. The Packers, despite having just won the Super Bowl, won't be content to go into 2011 with just a few necessary tweaks on the team, and having Woodson around means they're not losing a key playmaker in their defensive secondary.
Woodson's injury was big, because the Steelers could have exploited that gap in the coverage, but Sam Shields did his job, despite his own injury, and the Steelers offense couldn't get that critical first down at the end of the fourth quarter on fourth-and-five.
Despite the injury, Woodson did contribute in the first half and des...

Read Complete Article at Bleacher Report - NFL
Article is property of BleacherReport.com