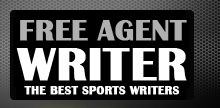 Yankee Addicts
Categories
Featured Sponsors
December 21, 2010 · Brian DiTullio · Jump to comments


DeSean Jackson has been having a great couple of weeks, and making the highlight reels, something he obviously craves.
Jackson is a very talented receiver, but his pathological need to be the center of attention could result in disaster for the Eagles. Remember, Jackson was the rookie wide receiver a few years ago who threw the ball away on the one-yard line after breaking away from the coverage.
Jackson hasn't had a bonehead mistake like that since, but he's begun celebrating touchdowns before he even scores them, and has drawn flags for taunting.
Personally, I can't stand stuff like that. I'm an old-school "Act Like You've Been There Before" kind of guy, and Jackson's antics just irritate me.
Still, the talent can't be denied, and you have to manage the talent and the ego at this level of football. You want the catches, but you don't want to let things get out of control.
For a look at the playoff picture, check out The 15 Biggest Games Left That...

Read Complete Article at Bleacher Report - NFL
Article is property of BleacherReport.com