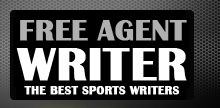 Yankee Addicts
Categories
Featured Sponsors
December 27, 2010 · Brian DiTullio · Jump to comments


Ed Reed intercepted Colt McCoy twice on the field, and after lighting it up between the lines, he went and almost got lit up on the sidelines.
Sideline video shows Reed sitting a little too close to the heater and catching his parka on fire from the sideline heater.
Reed quickly shed the jacket and escaped harm, only to return to the field and keep raising havoc on the Raven's defense and contribute to giving McCoy his worst day as a professional.
It didn't help that the Browns offense was fairly predictable, and it didn't help that McCoy still is a rookie and was bound to have a bad day. But that was good news for the Ravens.
The Ravens came out to win the game and get a playoff spot, and that's exactly what they did. The sideline incident simply gives new meaning to the phrase "lighting a fire under their butts."
For a look at possible head coaching changes, check out Mike Singletary & 11 Coaches Who WOn't Be Back.
...
Read Complete Article at
Bleacher Report - NFL
Article is property of BleacherReport.com