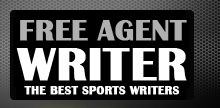 Yankee Addicts
Categories
Featured Sponsors
December 26, 2010 · Nathaniel Uy · Jump to comments


This is my team as of right now:
QB: Vick
RB: Adrian Peterson, Rashad Jennings
WR: Mike Thomas (JAC), Danny Woodhead & Mike Williams(SEA)
TE: Kevin Boss
Def: Cowboys
Bench: Philip Rivers, Andre Caldwell, Toby Gerhart, Brandon Jacobs, Kellen Winslow
I want to play Caldwell, cuz hes taking up TO's spot... but I dont know if SD's defense will lock him out. Confused between Kellen Winslow and Kevin Boss. Also debating if to play brandon jacobs or not, in place of AP, since he is game time call, with Toby Gerhart my back up just incase I decide to keep AP in the line up and he doesnt play tonite.
Any suggestions? comments? -Shoaib A
Caldwell is a sketchy play in my opinion b/c the Chargers defense is very good, on paper at least. Plus, Carson Palmer has only thrown for three touchdown passes in his last four games. Those are numbers that should scare you away.
You're better off keeping your current lineup. I would even argue t...

Read Complete Article at Bleacher Report - NFL
Article is property of BleacherReport.com